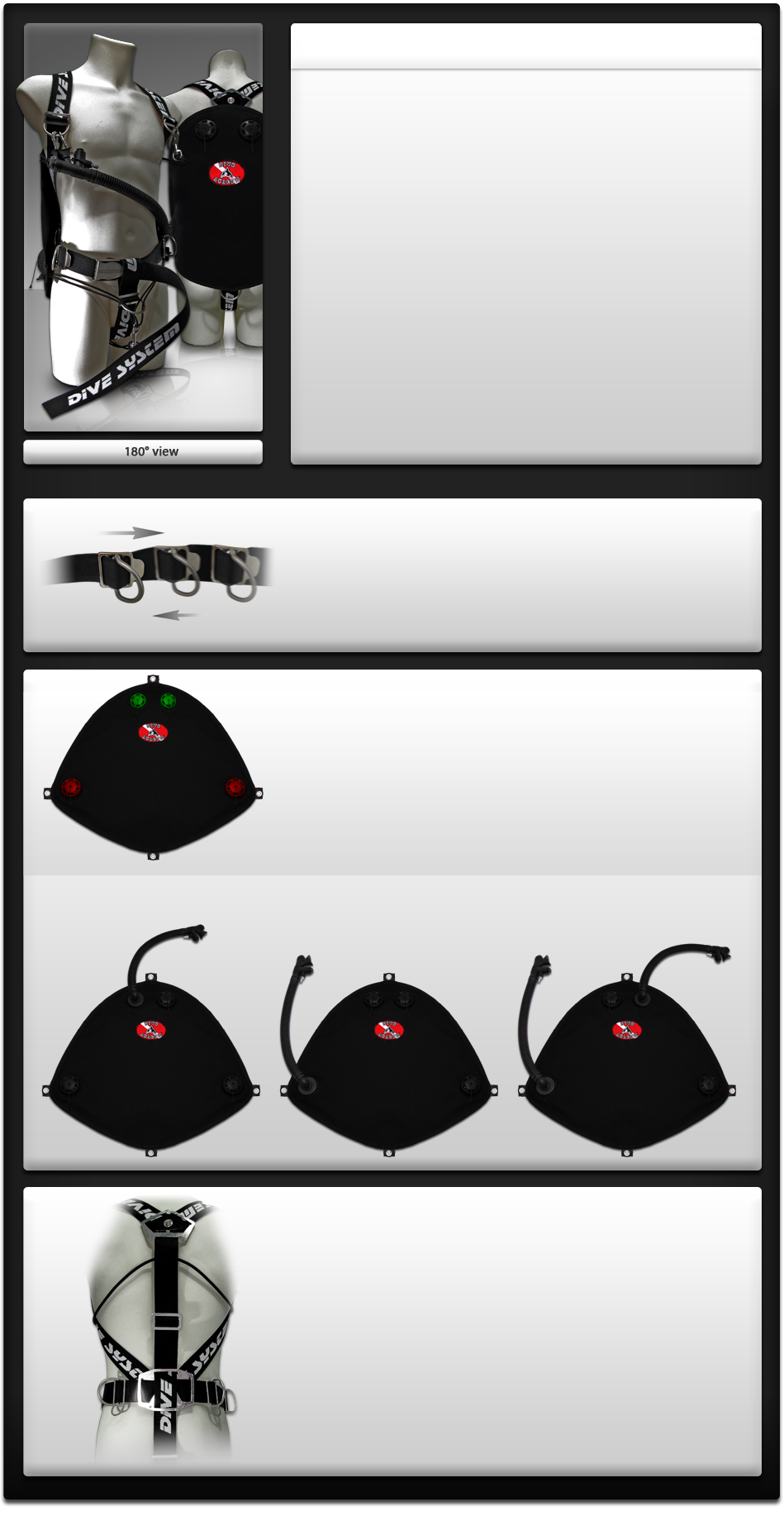 Manta Twin Bladder SideMount
Air Cell:
Type: Separate Twin Bladder
Primary bladder: 23 lt
Secondary bladder: 22 lt
Outer layer: Cordura® 1000 deniers or Kevlar®

Harness:
AISI 316 Stainless Steel Delta Shoulder Plate and Hexagon Butt Plate.

D-ring:
Material: AISI 316 stainless steel
2 adjustable D-ring 45° on chest for bungee hooking.
1 adjustable D-ring on butt for torch battery pack.
1 adjustable D-ring on crotch for DPV.
2 adjustable D-ring with drop attachment point on lower abdomen
2 mobile D-ring 45° on lower abdomen (movable during the dive).

Snap Hooks:
Material: AISI 316 stainless steel
2 for bungee fixing
1 for air cell fixing
1 for inflator fixing

Movable D-Ring, 45° flexed.
Perfect buoyancy and trim.

Two mobile D-rings on sides allow the diver to balance tanks buoyancy and have a perfect trim's control.

Flexed 45° not to crush on the buckle and always easy to find the first.

Beginner Configuration.
Pull the arm up and throw the air out.
Expert Configuration.
Side Mount's real feeling.
Twin Vis Configuration.
Requirement for technical diving.
Twin Bladders.
Triple Configuration: Beginner, Expert e Twin Vis.

The two fully independent bladders allow the best configuration for your Side Mount experience level.
Made to Measure.
One sized fits all.

Make your own Side Mount on your measure with a few simple adjustments.

The size is one: yours.